The company HZI was founded in the year 1989. It all began in a small garage. Since the beginning of the company Kurt Bubik already started to create special tools. For example a small series of mobile high pressure hydraulic units powered by a petrol- or diesel engine, which was quite popular in the tunneling industry.
Early 1990s our company started to build bigger series of hydraulic piping and hose systems. Especially the snow making industry which still uses a big variety of our products. Mid 90s was the time where we started with our vehicle construction since that day it is possible to acquire HZI Foresting trailers with cranes, Truck attachments, installations for "Liebherr" and "CAT" as well as special vehicles. Another milestone was accomplished here when we started to create special steel constructions used in the creation of via ferrata's, such as viewing platforms, Zip lines, and our special rope suspension bridges late 90s.
Because of a serious lack of space in our 1992 build old building HZI decided to move from the industrial zone Imst up to a new build factory her at the 'Gewerbepark Arzl im Pitztal' where you can still find us since 1992.
It was at this new location which was designed having big ideas where we were able to create some new special solutions for many problems. Like mounting loading cranes on a Truck or building / changing the platform body of a truck or creating a special cage big bulldozer which were used in salt and coal mines, etc. A big part of HZI is the creation and construction of alpine technology, like Weirs or Grit chamber tanks which play a important role if it comes to snow making, cabins and small hydroelectric power plants. Additionally, the HZI is the biggest manufacturer when it comes to via ferrata material which is used worldwide. Our bright variety of products and solutions doesn't stop here we also produce and sell our own petrol drills which are sturdy and especially made for rough terrain. But that isn't all we also have a multitude of equipment accessories like: concrete mixing buckets, grapples, grabber, rotators, crane baskets and many more.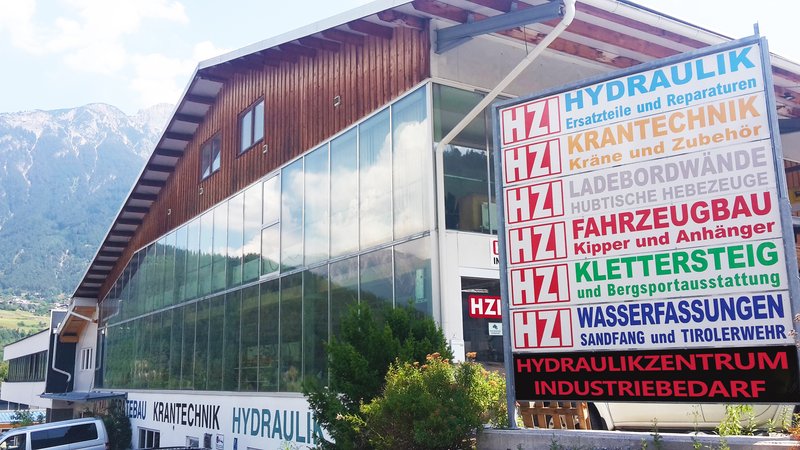 HZI - Hydraulikzentrum Industriebedarf GmbH
A-6471 Arzl im Pitztal, Gewerbepark 7
Tel.: 0043 (0) 5412 64839
Fax: 0043 (0) 5412 64839 20
info@hzi.at
www.hzi.at
Office hours
Monday till Thursday:
08:00 – 12:00 // 13:00 – 17:00 Uhr
Friday:
08:00 – 12:00 // 13:00 – 15:30 Uhr
Christoph Bubik
Technics / Manager
Tel: 0043 (0) 5412 64839 19
Fax: 0043 (0) 5412 64839 20
E-Mail: technik@hzi.at

Petra Bubik / Joachim Neumayr
Administration
Tel: 0043 (0) 5412 64839 10
Fax: 0043 (0) 5412 64839 20
E-Mail: info@hzi.at

Edwin Köll
purchasing, selling department
Tel: 0043 (0) 5412 64839 12
Fax: 0043 (0) 5412 64839 20
E-Mail: arzl@hzi.at

Sabine Runzer-Hackl
accounting department
Tel: 0043 (0) 5412 64839 14
Fax: 0043 (0) 5412 64839 20
E-Mail: sabine@hzi.at

Kurt Bubik
Tel: 0043 (0) 5412 64839
Fax: 0043 (0) 5412 64839 20